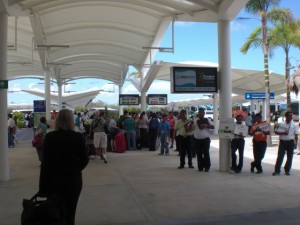 Question:
Where do we meet the transfer van at the airport? The transfer cost is included, correct? We do not need to pay the driver, right?
Answer:
1- Upon arrival into the Cancun airport you will walk into the terminal and forma a line to go through Mexican immigration,  pick up your luggage and follows the signs and people out of the terminal to where all the motor coaches are parked.
Olympus Tours will provide your prepaid transportation to Dreams Riviera from the Cancun airport.  Local phone:   998-881-9030.  After you pick up your luggage and proceed out the doors to where the motor coaches are you will see an employee standing outside with an orange shirt and sign saying, "GOGO" as in the photo below.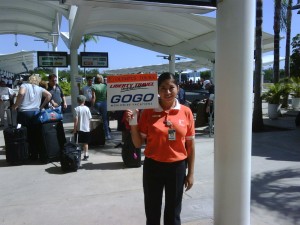 Olympus Tours greeting in the CUN airport
Question:
Is there a separate check-in location for the preferred level rooms, and where is it?
Answer:
From the main lobby, the bellboys will take you and your luggage to the Preferred Club Lounge for your private check in.
Question:
Where do we check in if we are in the deluxe rooms?
Answer:
Standard check in is in the lobby pictured below. 
Question:

Where will our room be in the resort and and are our rooms are next to each other?
Answer:
At check in they will assign your rooms.  There you may ask to have rooms next to each other, a king or two double beds.  We put in a request for your bedding type and room locations ahead of time but you can always verify these details as well.
Question:
How does GOGO schedule the return transfer?
Answer:
You can reconfirm with the local Olympus Tours (Gogo Vacations) agent in Dreams Riviera's lobby once you are there or call a local Mexican phone number to verify the hour they will pick you up on your departure day.
Question:
What about the four of us who are taking another transfer company back to the airport?  (Steph, Blair, Mary and Matt)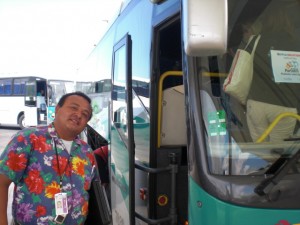 Answer:
You can confirm the pick up time with Amstar Tour operator (Apple Vacations) agent in Dreams Riviera's lobby once you are there or call a local Mexican phone number to verify the hour they will pick you up on your departure day.
Question:
Should we be concerned at all with getting sick in Mexico?  Quite a few people have mentioned it and I know we shouldn't drink the water and such but like ice and brushing teeth. You're familiar with it there,  have you or anyone you know had a problem getting sick?
Answer:
Dreams Resorts has filtered water in the whole resort so you do not have to worry about brushing your teeth, ice cubes, etc.   The resorts we send our clients to do not have this water problem.  No one has ever told me they were sick.
A recommended fix for stomach problems that I learned while living in Mexico is to take 3 cloves of garlic and mash or chop it up with olive oil and swallow.  This is scientifically proven to kill 22 viruses and infections.  Double it's effectiveness with fresh ginger water and you'll be well in the blink of an eye!
In case you find yourself with a stomach bug, than you can ask one of the waiters if they would please cut up 3 cloves with olive oil and they are always very nice about this.
Question:
First, should we bring pesos  if we leave the resort to golf, shop, etc?
Answer:
Exchanging dollars for pesos in the US will not give the best exchange rate.  I would recommend one of the follow methods.
Local ATMs (look for the banking symbol on the back side of your card to avoid extra fees)
Exchange window at the Cancun airport
Use your bank card in the business down there (there will be a small fee added by your bank)  You may want to call your bank before leaving home so they will not reject your charges.
Question:
Also, should we bring adaptors to handle appliances?
Answers:
No, that will not be necessary at Dreams Riviera.  Only those from Argentina and Europe need adaptors.
Question:
A few sites have mentioned a "tax" charged when leaving the airport.  Amounts have ranged from $18.00 – $40.00 per person and  sites say that it must be paid in pesos. I did check with American Airlines and they do not included it in the fare.  Do you have an specific info?
Answer:
Please check with whomever you purchased your  airline ticket from as that is their responsibility to inform their clients of this.   This is almost always included when we do tickets for our clients.  I would find out here how much to expect and use the left over change you'll have at the end of the trip.
Question:
Are all meals and Drinks included? Also is there a limit to how many meals/drinks you can order on our vacation?
Answer:
Yes, all meals and drinks are included 24/7, even room service!